Description
Made with Fresh Ground Coffee Beans.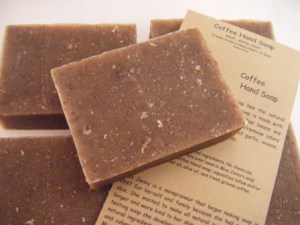 Miss Jenny's Coffee Hand soap has the natural ability to remove smells. This soap is made with freshly ground coffee beans. Coffee beans are famous for their ability to absorb/remove odors and toxins. Wash away the smell of garlic, onions, and fish with our coffee hand soap.
No dyes,
No artificial ingredients,
No chemicals,
No preservatives are ever used in Miss Jenny's soap.
Ingredients for Coffee Hand soap: saponified tallow, coconut oil, olive oil, and fresh ground coffee.